Prague Walking Tours
Our Prague Walking Tours are designed so you can get the most out of your Prague visit. Join 100 Spires City Tours and uncover the history of this beautiful city.
Prague Old Town, Jewish Quarter & Charles Bridge Tour will take you through the streets of Old Town, the Jewish Quarter, and the Lesser Town - the most important parts of the historical city center. You will learn how to read the Astronomical Clock, where the famous Prague Golem is stored, and how long it took to build Charles Bridge.
Explore Prague Castle the right way! We offer two different tours of Prague Castle. On our Free Prague Castle Tour, you will explore the general area of Prague Castle and will learn its history. Or see the interiors of Golden Lane, St. Vitus Cathedral, and Old Royal Palace on our Prague Castle Tour with Tickets to Interiors.
Free Prague WW2 & Communism Tour will cover the most important events of the darkest period in Prague's history - the Prague Uprising, Valentine's Day Bombing, the Anthropoid Operation, the Holocaust, and Czechoslovakian Pilots in RAF.
The final mention belongs to our Prague Private Tours. If you came to Prague with a group of friends or simply want a private experience see more details about our private tours.
Join us for one of our Prague adventures!
Who are we?
We are 100 Spires City Tours but you might also know us as Real Prague Guides on YouTube. We are a team of professional Prague tour guides, who are proud to call Prague our home. One might say that we are weird and they would be right! Because there is nothing normal about people who are so mad about the city they live in. Come and join us on one of our tours, get to know Prague, and get to know us!
Let's have fun!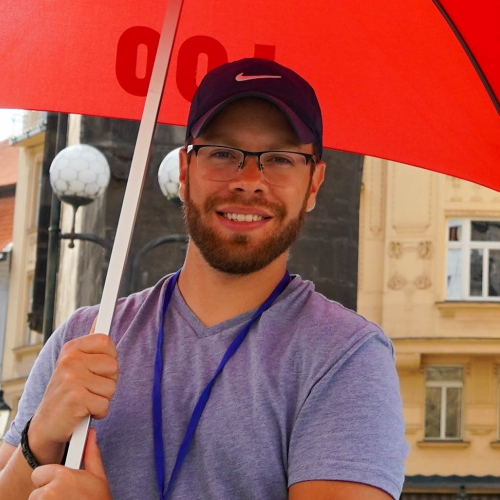 I am a studied opera singer, and my special superpower is my high energy and enthusiasm! Together with Vaclav and Valery, we founded 100 Spires City Tours and started the Real Prague Guides YouTube Channel. You might have seen me in some of the earlier videos, and I hope for more cameos!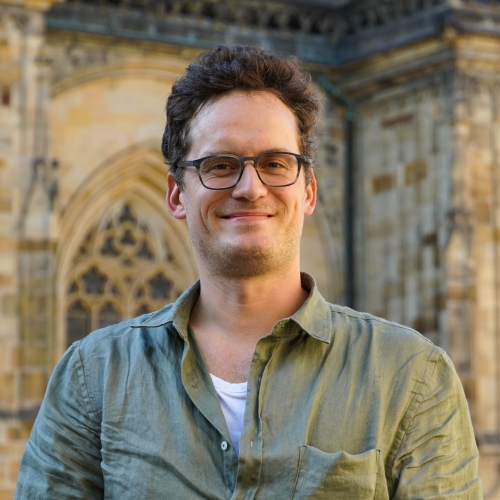 I am from Prague, and during my university studies, I started working as a guide. Two of my passions are showing travelers the city I grew up in and filming and editing for the Real Prague Guides Youtube Channel. Dream come true!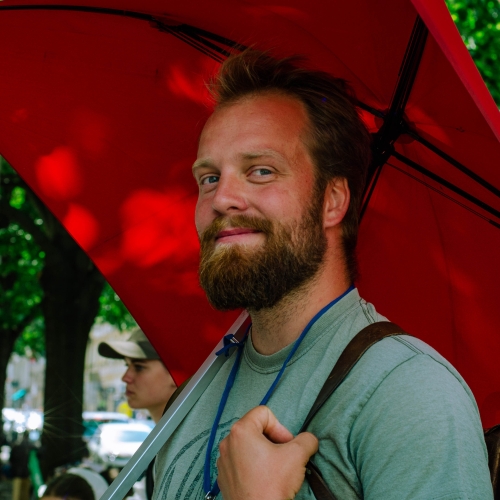 I am a natural-born...Praguer. Do you want to experience Czech humor in its raw form? Then I am your man! Vaclav and I have been friends since high school, and now we show our hometown to travelers from around the world. See now what we meant by "family business"?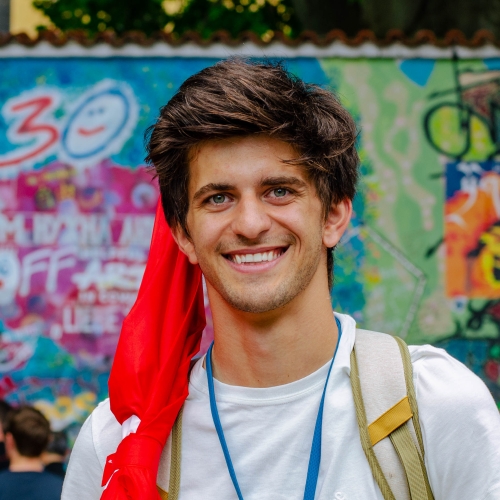 I am from Prague as well, and I am a man of many faces...because I am an actor! You won't see me in any Hollywood blockbusters (yet) but I was in a Coca-Cola commercial as well as in several Czech soap operas. My passion for storytelling is what drew me to guiding.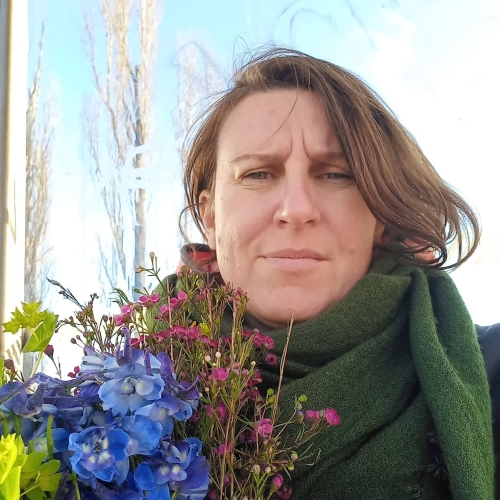 I am an architecture historian, a mother, and a permaculture gardener born and raised in Prague. I started guiding in 1998...and I still love it! I will show you My Prague...beautiful architecture, the best places to eat and where to go for a party, everything I love myself!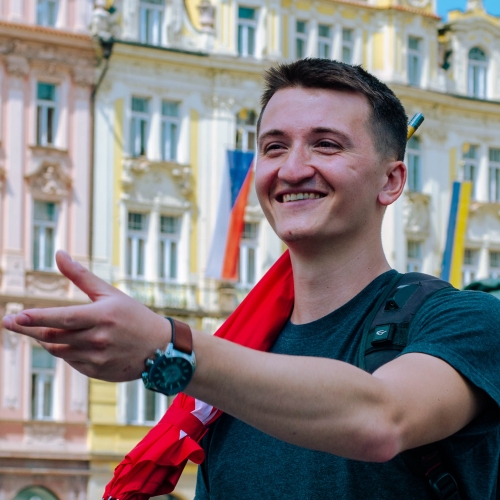 I am a half-Czech half-Iranian global nomad who is proud to call Prague my hometown. I love history, especially the complicated 20th century, as well as the brutal and gory Middle Ages. Can't wait to share my favorite stories with you!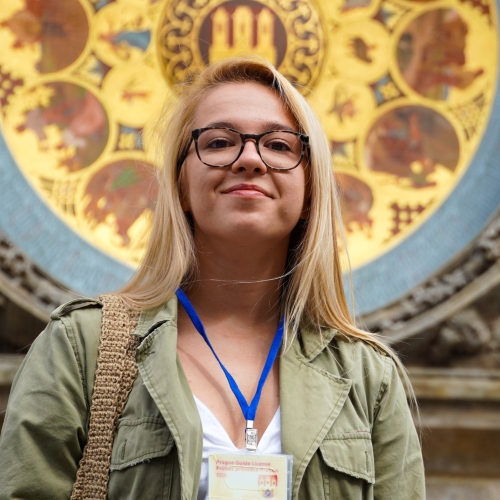 I am the face of the Real Prague Guides YouTube Channel and quite possibly the funniest Russian person you will ever meet. I guided for 6 years before video-making completely took over my life, now I only exist on the Internet. You can write me a comment and I will have it for lunch.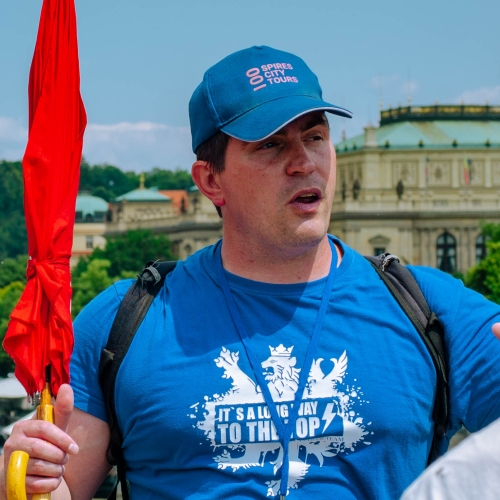 I was born in the USA but lived most of my life in Europe. When my cheerleading career brought me to Prague, I fell in love with this city and decided to stay. I have studied the guiding school and now I share my love for Prague with travelers from all over the world.
I am from the northwestern outskirts of Prague. I studied history and international relations but I never realized how beautiful is Prague, until I started traveling myself. I love showing this beautiful city and sharing its history and culture with travelers.
Prague Walking Tours Offer
How to find us? Easy peasy! Look for a giant red umbrella with a number "100" in white! We assure you, the person who is holding it is one of us (unless we got robbed :o). As soon as we get back to you with the confirmation of your booking, you will receive more details about where the tour will start. Also, you can find the meeting points for our tours with their respective addresses at the bottom of each page that talks about our tours.